Past President - Rich Sanfilippo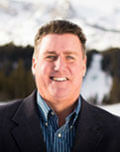 Rich Sanfilippo, his wife, Kandis, and sons, Justin and Jeffrey, started their adventure in Mammoth Lakes in the 90s with a part-time vacation home. Rich and Kandis long planned to own a business in Mammoth Lakes someday, and in November 2014, they purchased Perfect Clean Inc. (PCI) and made the town their home full-time.
Rich continues his work in the field of Facilities Management while being an active owner (along with Kandis) of one of the larger cleaning companies in Mammoth Lakes serving the guest rental market and local business janitorial needs. Rich has led high-functioning facilities management teams for the LA Fire Department, the government of the Cayman Islands and the U.S. Border Patrol. Rich is a Certified Facilities Manager, the highest accreditation in the field, and he continues his studies toward a master's degree in Green Building Management and Sustainable Construction.
Rich is honored to have earned a place on the MLCC board and he looks forward to continuing to volunteer his time, leadership and skill set to elected and unelected office in Mammoth Lakes. Rich wants to ensure the continued viability of Mammoth Lakes for the next generation, especially so he can pass his love of the Eastern Sierra on to his future grandchildren.