Sustainability Tools for Businesses
In celebration of Earth Month, Southern California Edison is brought us a Power Lunch on April 11 focused on clean energy and sustainability. Below is information from SCE, High Sierra Energy Foundation and Mammoth Disposal on their efforts around green issues affecting local businesses.
Southern California Edison
Measuring the Impact of a Record Snowpack
Learn about SCE's winter storm response and what impacts are anticipated from this year's historic snowpack. SCE helps Sierra communities rebound from historic storms while preparing for potentially dangerous snowmelt.
Though we are anticipating increased water flows into and out of our reservoirs during peak runoff (June- August), we do not believe these flows will pose significant dam safety risks.
The safety of our employees, contractors, and communities is our number one priority. We continue to operate our hydro-electric system with restrictions on reservoir levels to meet safety and seismic requirements and inspect all SCE dams regularly per state and federal guidelines.
With the work completed since 2017 (Rush Creek), we do not currently anticipate the need for major construction work. The improvements allow us to more effectively manage the release of excess water and reduce potential downstream impacts.
Though our team develops and consults forecasting models, weather is always unpredictable and there are several variables which remain unknown.
We are reducing water levels in our reservoirs to effectively manage capacity and the flow of projected natural snowmelt runoff. We do this by draining excess water through the powerhouse, large pipes, and relief valves.
SCE is working with local agencies to provide timely updates regarding our planning and the timing of any needed water releases.
We are also working with federal and state agencies to ensure mitigation strategies are comprehensive to help prepare customers located in downstream communities. We have also reviewed and amended our Emergency Action Plan (EAP) in consultation with governmental partners and key-stakeholders.
Emergency Preparedness Programs
Critical Care Customer – Backup Battery Program
Customers who reside in high fire risk areas and are currently enrolled in the Medical Baseline Allowance program, and who require the regular use of electrically powered medical equipment or another qualifying medical device, are eligible for the Critical Care Backup Battery program.
Portable Power Generator Rebate
A portable generator may be able to provide emergency backup power for large household appliances and devices such as refrigerators, lighting, water pumps, and garage doors for an extended time. Beginning September 1, 2022, if you purchase a qualifying model, you could receive a $200 rebate (or a $600 rebate for customers enrolled in income-qualified programs or our Medical Baseline Allowance program) if you live in a Tier 2 or Tier 3 high fire risk area.
A portable power station can provide emergency backup power for small devices and household appliances such as laptops, mobile phones, tablets, and some internet routers. Beginning September 1, 2022, if you purchase qualifying models and live in an area designated as a Tier 2 or Tier 3 high fire risk area, you could receive up to five $150 rebates per active service account.
Grid Hardening & Modernization
SCE is working to help prevent wildfires by strengthening their electrical system and improving its ability to conduct inspections. Over time, this work will reduce the need to implement Public Safety Power Shutoff (PSPS) outages in high fire risk areas, and help minimize the number of affected customers. Below are ongoing efforts to keep us safe.
CARBON NEUTRALITY BY 2045
How We Get There...
Pathway 2045 is SCE's 2019 data-driven analysis of the steps that California must take to meet the 2045 goals to clean our electricity grid and reach carbon neutrality.
Support State's Green House Gas (GHG) reduction
High Sierra Energy Foundation
Heat Pumps and Induction cooking
What is a heat pump, and should I get one?
Click the link above to read a Washington Post article on the increasingly popular energy-efficient alternative to your fossil-fuel-powered furnace.
Department of Energy Heat Pump Water Heaters
Most homeowners who have heat pumps use them to heat and cool their homes. But a heat pump also can be used to heat water -- either as stand-alone water heating system, or as combination water heating and space conditioning system.
The Pros and Cons of Induction Cooking
Induction cooking may very well be the future. It has long been popular in Europe, especially in professional kitchens. Since 2019, regulations to restrict or ban gas stoves and other gas appliances in California have been increasing due to concerns about climate change—and the state has recently adopted new building codes that ban natural gas in new homes and support all electric construction.
Building Electrification Resources
California Green Business Network Resources
Recent CA State Recycling Legislation Affecting TOML Businesses
SB 54: Plastic Pollution Prevention and Packaging Producer Responsibility Act
On June 30, 2022, Governor Gavin Newsom signed SB 54, a landmark new packaging law that requires that by 2032:
100% of packaging in the state to be recyclable or compostable
25% cut in plastic packaging
65% of all single-use plastic packaging be recycled
Currently, CalRecycle is forming an advisory board for SB 54 comprised of business owners, environmental specialists, government, rural representation, etc. Kendra Knight will apply on behalf of TOML for rural representation.
Buoy is a great viable option for restaurant reusables. We will pilot their program in TOML this summer with several restaurants.
Additional Information on Buoy
They are a team of 5 co-founders that are passionate about ocean conservation as well as increased waste and emission caused by the fast-growing take-out industry.
They have created a closed loop system for reusable take-out food containers that doesn't produce any new waste at any step.
They manufacture their own, first of a kind, reusable containers made from 100% recycled ocean-bound plastic. The plastic is intercepted and recovered from rivers, beaches and coastal regions before it can enter the ocean.
Their products are all 100% recyclable and we re-recycle damaged food containers back into new ones.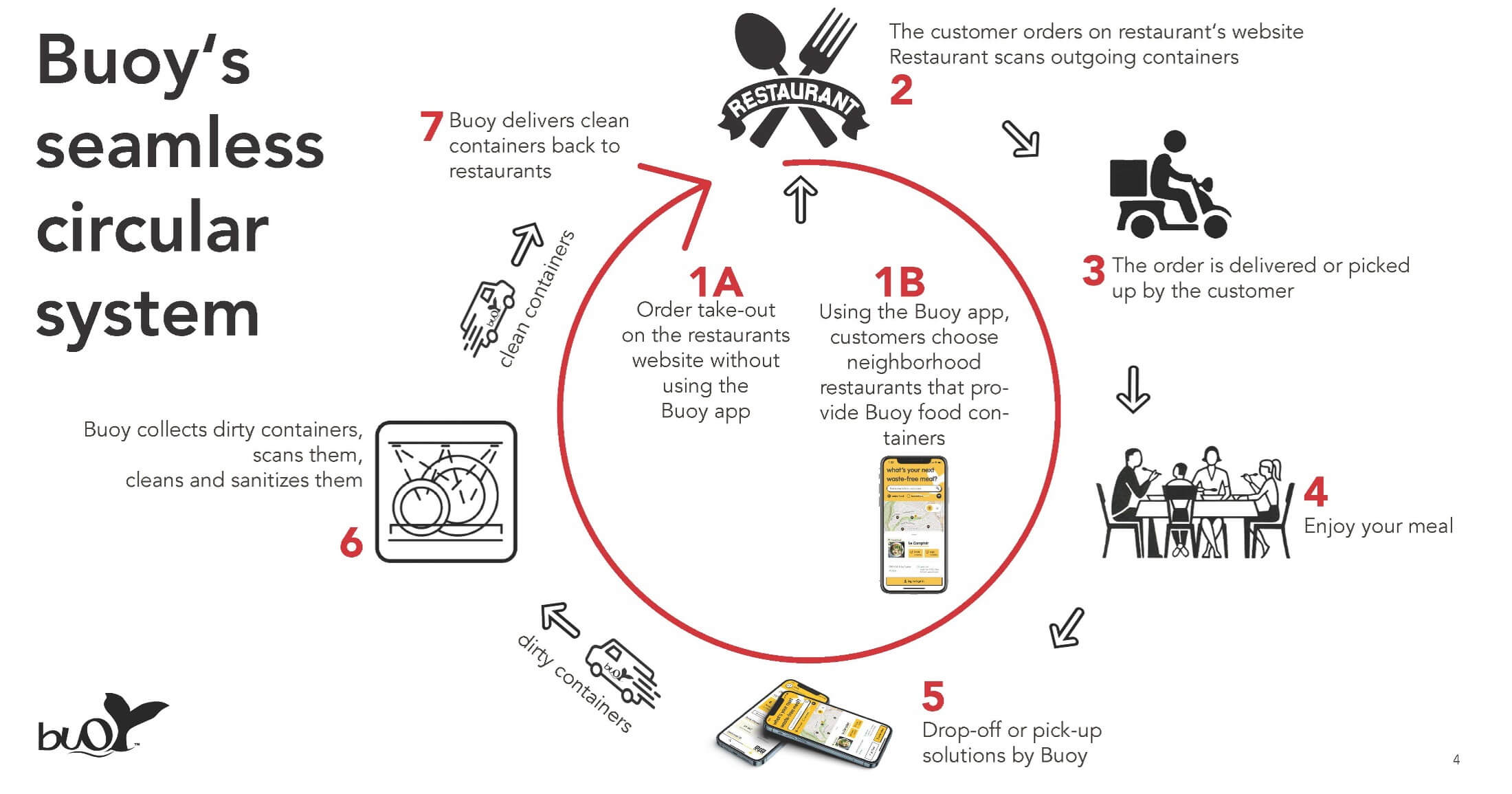 AB 1276: Single-Use Foodware Accessories and Standard Condiments
Prohibits full-service restaurants from providing single-use plastic straws or food service ware unless the customer requests it. Restaurants must supply single-use serviceware if requested by customer. However, restaurants must not provide single-use serviceware if not requested by customer. All restaurants in the TOML must comply with AB 1276.
AB 1162: Single Use Hotel Toiletries
Prohibits a lodging establishment from providing a small plastic bottle containing shampoo, hair conditioner, or bath soap to guests, as specified, and makes the lodging establishment civilly liable upon violation.
AB 341: Mandatory Commercial & Multi-Family Recycling
To reduce GHG emissions by diverting commercial solid waste to recycling efforts and to expand the opportunity for additional recycling services and recycling manufacturing facilities in California.
SB 1383: California's Short-Lived Climate Pollutant Reduction Strategy
In September 2016, Governor Brown set methane emissions reduction targets for California in a statewide effort to reduce emissions of short-lived climate pollutants (SLCP). The targets must:
Reduce organic waste disposal 75% by 2025.
Rescue for people to eat at least 20% of currently disposed surplus food by 2025.
Locally, Vons and Grocery Outlet would be subject to the requirements and the local food recovery organization is primarily the Inyo Mono Advocates for Community Action (IMACA) food bank.
Currently working on our TOML Edible Food Recovery Capacity Plan, with collaboration from IMACA for record keeping and compliance with SB 1383.